How To Transplant Your CRM: A Case Study Webinar
Join Roger Lee and Benafsha Irani on June 14, for a live webinar about the
Service Cloud implementation at FDB Health, a division of Hearst Corporation.
Expect A Different Experience in the Cloud.
Need A Salesforce Health Check?
Get a free assessment of your Salesforce implementation, including the potential suitability of newly released functionality, to see if your system is operating to its fullest potential.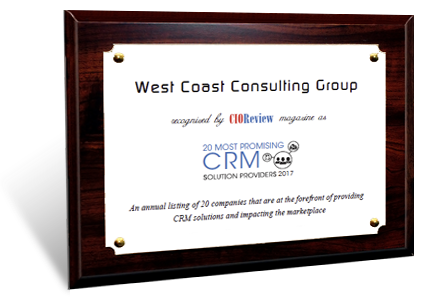 West Coast Consulting Group
recognized by CIO Review magazine as
20 MOST PROMISING CRM
SOLUTION PROVIDERS 2017

West Coast Consulting Group is helping clients in key industries