Expect A Different Experience in the Cloud.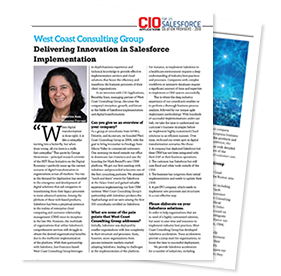 West Coast Consulting
recognized by CIO Applications magazine as
TOP 25 SALESFORCE SOLUTION
PROVIDERS IN 2019
Need A Salesforce Health Check?
Get a free assessment of your Salesforce implementation, including the potential suitability of newly released functionality, to see if your system is operating to its fullest potential.
"Our Salesforce account rep recommended West Coast Consulting, a firm several of his customers had worked with. They spent several hours understanding our objectives, legacy systems and work to that point. Then they crafted a lean estimate to get us up and running. To ensure a successful launch, they customized some forms and flows, enabled features none of the previous consultants had even informed us about and provided excellent training and documentation."
"Being a small company, we needed a powerhouse team to help with our Salesforce integration. West Coast Consulting came onsite for two days and helped us clean up all our work flows and reporting. This was quite the task since we wanted to clean up the flow between Salesforce and Eloqua and our reporting with Omniture. We were extremely pleased with all that this team accomplished in two days."
"West Coast Consulting was instrumental in our platform redesign. They provided valuable insight throughout the project and were strategic partners as well as developers. The new Sales and Service Cloud deployment has greatly increased our ability to accurately forecast sales volume and in turn has increased the effectiveness of business planning activities across the entire organization. We enjoyed working with the team and would highly recommend their services!"
"West Coast Consulting Group provided an excellent service and went above and beyond to implement our Marketing Cloud Ad Studio. Our Marketing Cloud instance was missing some elements to make Ad Studio work so Benefsha spent extra time working with Salesforce to make sure we were on the right path. I feel very prepared to work in Ad Studio on my own now. I would highly recommend West Coast Consulting and looking forward to working with them again in the future."
"West Coast Consulting Group did an excellent job at digitally transforming our processes and designing our Salesforce using Service Cloud and Marketing Cloud to manage our City of San Francisco constituents and their inquiries. A special thanks to West Coast Consulting Group for making this happen in a timely manner."

We help clients in key industries with salesforce consulting