Outset Medical Deploys Salesforce CRM with ERP Integration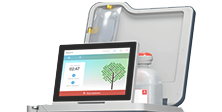 The Challenge
San Jose based Outset Medical is a pioneering medical technology company, reimagining dialysis for patients and health care providers to reduce the cost and complexity of dialysis, while improving the experience for patients and providers. The "Tablo" console, designed for the global dialysis market, dramatically improves the patient experience, reducing the time involved in setting up and managing dialysis, whether at home or in clinics.
As the company grew rapidly, executive management needed better visibility into the sales pipeline to shorten sales cycles, and to better manage growth drivers such as revenue run rate and order management. Jamie Lewis , SVP of Sales and Customer Experience was eager to start the project and recalled: "After a Tablo system was sold and installed, we wanted to track key metrics, like the product utilization rate. Our sales, contracts, finance, and supply chain departments needed a system with a seamless sales process to help align our different teams."
The Solution
West Coast Consulting was awarded the project. They were tasked to redefine the overall sales process across the organization and integrate Sales Cloud to the company's ERP system QAD. The new Sales process had to be incorporated within the architecture of Sales Cloud to be shared by the various cross functional teams, such as sales, contracts management, supply chain, and finance in closing out Opportunities and managing Orders.
The consulting team worked closely with Jamie, and various other stake holders to define the overall process, which included creating MSSA and location accounts and tying opportunity records to shipments in order to track where each Tablo console was to be shipped within the hospital system.
The new system provides a streamlined approach to information shared among the teams. Contracts management and sales are now in sync, while finance can work on payment terms and credit approvals simultaneously to save time. The consulting team developed a staged go-live plan that allowed for minimal disruption to ongoing business, accommodating all existing users.
Outset Medical now has one reliable system that is the definitive source of customer information. The flow of data between QAD and Salesforce is seamless, providing real-time and accurate information to finance, order management and supply chain teams.
Results
The new system was quickly adopted by all internal users. Deal closing times dropped by 80%, as different teams within the organization are better coordinated, working simultaneously on opportunities, instead of waiting on email escalations to move opportunities from one stage to another.
The sales team is now coordinated with the requirements of the contracts management team and gives them a head start in putting together various sets of contract agreements so that Sales can move to the next stage of the overall sales process.
Well-defined workflows and opportunity management have resulted in reducing confusion over customer records. The finance team has visibility into the opportunity records with regards to payment terms offered, credit approval, and more. An approval process supports the Finance team for Credit Approval and Payment terms. Providing the supply chain team access to opportunities and location shipments enables them to streamline the shipment process.
"With the reports and dashboards created by West Coast Consulting, we now have excellent visibility into our business." said Jamie.

ORGANIZATION
Outset Medical, Inc.
INDUSTRY
Healthcare
HEADQUARTERS
San Jose, California
SUMMARY
Deployed Sales Cloud to manage complex new sales process, reducing deal cycle by 80%.
Implemented Service Cloud to manage customer experience.
Revamped Field Service to manage assets and dispatching for field service operations.
Integrated Salesforce with QAD ERP system.
Implemented forecasting and revenue reporting resulting in better pipeline visibility.
100% user adoption