San Francisco Board of Supervisors Communicates with Constituents using Salesforce
The Challenge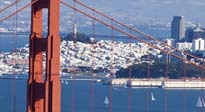 The Board of Supervisors is the legislative branch of the City and County of San Francisco. The Board consisting of 11 District Supervisors, Clerk of the Board and the Youth Commission, were looking to find an effective way to manage incoming inquiries, and communicate effectively with their 800,000+ San Francisco constituents.
The Board of Supervisors wanted to perform a digital transformation to expand its reach to its Constituents and respond to their incoming Inquiries in an effective manner. However, each District Office needed to manage their data for its constituents separately, while maintaining a unified communications structure for its constituents.
All inquiries from the public needed to be recorded, categorized, and routed to the appropriate organization. Government liaisons needed to be tracked and managed. And the board members required an easy but consistent way to reach out to their constituents via newsletters and email.
The Solution
From dozens of submissions, the Board of Supervisors selected West Coast Consulting Group, a local San Francisco organization as their strategic implementation partner, based on our strong experience with Salesforce Cloud deployments. Using agile methodology, West Coast Consulting Group deployed a Constituent Management System that allowed for each District Office and their staff to manage their Inquiries, track Inquiry Category and respond effectively to resolve the issues in a timely manner by working in partnership with their Government Liaisons. It took about three months to interview each supervisor's office, refine the requirements, map the business processes and deploy the Constituent Management System across the District Offices, Clerk of the Board and Youth Commission Office.
Project Management
West Coast Consulting Group worked with the IT team to build out a project management plan, including resource allocation and duration. The plan was tracked on a weekly basis and reported to the Board's key stakeholders with key progress items, upcoming items, milestone updates, key dependencies and any issues/risk that had been identified. The West Coast Consultants used Agile methodology for project development and conducted S1 And S2 calls to track progress on a daily basis.
QA/QC Experience
West Coast Consulting Group used agile methodology to develop and test projects. Requirements Traceability Matrix is developed upon sign-off on Requirements and User Scenarios, User Test Cases and involving key stakeholders during testing to be part of the agile development process. Training scenarios and materials are developed to display step-by step screens and associated items/actions to be completed as part of the training scenario flows. Training is conducted on a one-to-one, train-the-instructor as well as support after "Go-Live" to ensure 100% User Adoption is taking place.
Schedule Performance
West Coast Consulting Group assigned a single point of contact to manage and track the schedule, manage risks and develop a milestone and resource tracking plan that was updated on a weekly basis. All issues and action items were tracked and identified for resolution prior to becoming an issue or impacting the milestone. In addition, West Coast Consulting Group identified and tracked out of scope items.
Budget Performance
West Coast Consulting Group managed the budget effectively, ensuring that scope and timeline were tracked using agile methodology, and managing the releases accordingly. Any scope changes were communicated in a timely manner and managed in upcoming or future releases.

ORGANIZATION
San Francisco Board of Supervisors
INDUSTRY
Government
HEADQUARTERS
San Francisco, California
SUMMARY
Completed Digital Transformation.
Deployed Service Cloud across all Supervisor District Offices to manage constituent inquiries.
Implemented Marketing Cloud for ongoing community outreach and Newsletter updates to constituents.
100% adoption