Get a Salesforce Health Check
Our Salesforce Health Check is an initial assessment of your Salesforce implementation to see if it is operating to its full potential. Our single consulting session will include:
An audit of your current processes and configurations.
A comparison of that to new features and functionality available within Salesforce, along with best practices.
A presentation of our findings and key recommendations.
At West Coast Consulting, we continue to keep our clients current as to what's available from Salesforce. There is a lot of impressive new functionality available, including what we just learned from the recent Dreamforce conference. For example: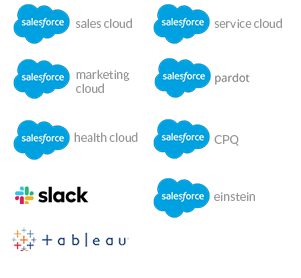 Upgraded User Interface ("look and feel") with the Lightning platform.
Review new features associated with increased productivity for Sales team using High Velocity Sales, Sales Cadence and InBox.
Productivity and communication across the organization using Slack.
Enhanced, user-friendly functionality for reporting and dashboarding using Tableau.
Artificial Intelligence (AI) from Einstein for Predictive Lead Scoring, Anticipated Sales Opportunities, and Proactively Resolving Cases.
Service Cloud features including Chat, Omni Manager, Flows, Knowledge and Macros.
Field Service Lightning for Service Cloud and Communities.
You should find that this modest investment in your time for the consulting session will provide you with an informative review of the "health" of your system, and assess where there might be opportunity to optimize your implementation for your current needs.
Simply fill out the form below and our representative will contact you or call 415-626-3493.