Google unveiled its latest Google Drive enhancements for enterprise customers on 8/22/17. Some of the new and updated features include Team Drives, and Drive File Stream features powered by the company's machine intelligence tech.
What is Google Team Drive?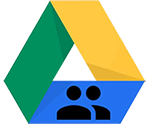 Google Team Drives are shared spaces where teams can store, search, and access their files from any device.
Unlike files in My Drive, new members can be added and provided with instant access to the relevant documents in Team Drive. This reduces the time for new members to ramp up.
The files in Team Drive are owned by the team instead of an individual. So  even if team member leaves, the files stay exactly where they are, so your team can continue to share information and get work done, without missing a step.