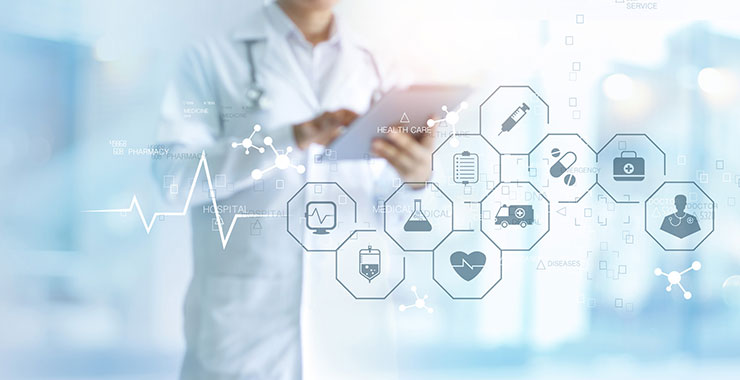 The healthcare industry has been catapulted to the forefront of our attention over the past several months, and has performed heroically.  All healthcare workers, whatever their role, deserves the rounds of applause, all the howls, each and every banging pot and pan, and a million times more, at 7 pm and at every other hour of every day.  West Coast Consulting cannot thank you enough for all that you have done.
The healthcare industry's rapid pivot to accelerate testing, diagnosis, and treatment during a pandemic has pushed into the background other operational concerns for now. But other operational  challenges remain, and their importance will re-emerge:  a need to improve the quality of all healthcare services and thus the outcomes; a continued drive to reduce costs; and a mandate to improve productivity and efficiency at the same time.  While healthcare IT transformation initiatives are not top of mind at the moment, their long-term benefits are still compelling.  And there are some fundamentals that can and, quite frankly, should be managed in the interim.
Healthcare Innovators Benefit from the Basics
The West Coast Consulting team has worked with numerous healthcare industry clients to improve  returns on already-made investments.  Some common activities  that we have seen include:
Increasing utilization of software licenses they had already paid for;

Increasing adoption among their user communities by improving  mis-configured or inefficient digital business processes;

Deriving insights from business systems data that demonstrate  process effectiveness and improve  forecasts for business obligations and sales deals.
Technology-Centric Healthcare Supply Chains
One WCG client is a privately-held, modern pharmacy benefits provider that takes advantage of real-time technology and information to optimize the supply chain between drug manufacturers, insurers, pharmacies and members. This client, with technology at the core of their business, had invested in Salesforce Sales Cloud to manage their operations as well.  Early successes in the market resulted in  the rapid growth in supply chain partners, pushing their Salesforce data model to its limits.  In rapid fashion, and without impacting their business and impeding growth, the WCG team uplifted their environment by:
Revamping and extending the data model to accommodate a growing number of supply chain players, including new participants like plan administrators, independent insurance brokers, and employers (insurance plan sponsors).

Integrating and unifying their Salesforce solution across Sales Cloud and Service Cloud. 

Validating that the solution is HIPAA compliant, especially with the growing amount of member information being managed.

Delivering executive dashboards for monitoring and reporting metrics across Sales and Service functions, aligning insights to those demanded by their investors.
Out of the Hospital and Into the Home
In another instance, our team has partnered with an innovative start-up who has transformed a complex, critical healthcare regimen performed regularly for nearly half a million Americans.  These procedures traditionally have been performed in a hospital or clinic, and require expensive devices,  consumables and trained operators.  This start-up has developed technology that allows these procedures to be performed in care facilities outside of a hospital.
With their revolutionary technology that delivers greater efficiency and reduced cost, their business is booming.  They experienced record growth and provider/patient adoption well before the start of 2020.  And when the healthcare world was jolted by the COVID-19 pandemic, the opportunity  to perform these procedures outside of a hospital became even more critical.  The FDA rapidly granted approval to take their treatment into the patient's home to be performed safely in isolation.
This provider had adopted Salesforce in its early days but, even before the 2020 inflection, had outgrown their initial operational processes. The WCG team:
Reconfigure efficient processes for Sales, Customer Service and Field Service teams through an integrated solution with Sales Cloud and Service Cloud.

Deliver improved dashboards and visibility into their sales pipeline and order management process to ensure that their rapidly expanding customer base receives products on time, that installations are scheduled appropriately, and that ongoing maintenance calls are performed so that the patients receive consistent, quality care.

Integrate the Salesforce environment with back-end financial systems, patient record systems, state-based reporting systems, and customer care systems. 
Navigating to Calmer Days Ahead
Both of these WCG customers realized productivity and efficiency gains by extending systems in which they already had invested.  There is always room for improvement, even when priorities shift, and those improvements can come from data model reviews and updates, back-end integration to extend automated business processes, and extracting greater insights and visibility to navigate through times of intense turmoil.
Call West Coast Consulting at 415-626-3493 today to learn about our healthcare industry expertise, best practices approach to systems integration, and guidance to lead you through digital transformation at the pace that makes sense with everything else going on. And healthcare workers, keep up the good work – we couldn't do any of this without you!
#Lightning #SalesforceLightning #ClassictoLightningMigration #HealthCloud #SalesforceImplementation #HLS