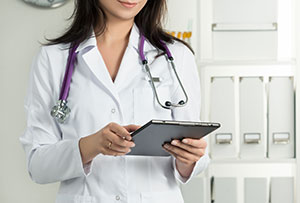 The healthcare industry has been rapidly changing over the past 3 years due to regulations such as the Affordable Care Act.  Because of these regulations and new outcome-based reimbursements, healthcare providers are treating patients like customers – putting patient relationships – not records or revenue-cycle management systems – at the center of how care is delivered.  As a result, providers are being more proactive than reactive in their treatment.
West Coast Consulting Group's Healthcare Accelerator, released this year, is built on the Force.com platform.  It provides patient relation management and a 360 view of the healthcare patients enrolled in Payer programs, including Medicaid or Medicare. This healthcare accelerator package provides a comprehensive baseline for satisfying requirements of most insurance and caregiver agencies in managing their customer data.
Implementation of the Healthcare Accelerator reduces overall implementation time; and helps companies go live with their CRM system quicker making it an extremely cost-effective option.
The feature of the Healthcare Accelerator include the following:
Patient Provider Relationship: Allows monitoring of patient data, Primary Care Provider (PCP) information and appointment schedules, patient interactions with the insurance company, and health forms on file are all recorded in the system.
Provider Clinic Relationship: Allows monitoring of the relationship of provider and clinic(s) where provider services are offered.
Provider Information: Provides information on the provider specialty, clinic/hospital relationships, patients associated with the provider.
Caregiver Patient Relationship: Information on patients requiring on-site caregiver. Caregiver profile information, certifications, rate and schedule.
Interactions Information: Provider, Clinic, Patient interactions are recorded.
Reports and Dashboard:  Visual dashboard to track sensitive report downloads and detect social engineering attempts.
Field Audit Trail: Healthcare professionals can audit changes made to sensitive data at a field level and retain the audit information for up to 10 years. They can also create custom retention policies based on specific compliance standards and internal rules, and easily query patient data history for HIPAA and internal audits.
As you know, the rapid growth of patient data in recent years has the power to change the way our healthcare system operates — and for the better.  Organizations and health professionals can now leverage data to create better care plans for their patients, resulting in better outcomes for all.
Please email info@westcoastconsulting.com to obtain a demo.
By Benafsha Irani, Managing Partner, West Coast Consulting Group
#Lightning #SalesforceLightning #ClassictoLightningMigration #HealthCloud #SalesforceImplementation #HLS