You've probably seen this digital transformation meme: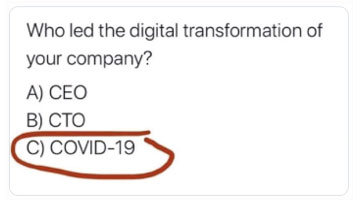 It's funny because it's true: the current pandemic and associated social distancing lockdown has served as the most compelling event imaginable to accelerate how many of us have transitioned to working virtually.
Even industry sectors that have long been perceived as the most resistant to change, including the public sector, have stepped up to the "new normal," and are taking advantage of cloud applications to perform their business digitally.
Managing A Constituency From Home
At West Coast Consulting Group, we have observed how one of our clients, a large US city government, has maximized the benefits of their Constituent Management System, built on Salesforce Service Cloud and Marketing Cloud, to meet the demands arising from shelter-in-place orders and distance working for even their essential services.  The Constituent Management System is critical to their staying connected with their constituents in new ways and to their governing with the same degree of transparency as always.
Over the past year, this city implemented Salesforce to digitize and manage all interactions between City Council members and the public.  They deployed foundational Salesforce process including:
Categorization of inbound and outbound communications in all formats – telephone calls, emails, social media, postal service – by topic
The ability to manually or automatically route inquiries among their team and across other teams to drive responses and results in the quickest, most efficient manner
A dashboard to track status and follow-up actions
The ability to regularly communicate with their constituency individually, by category, or en masse via email campaigns or an online newsletter
Be Efficient and Flex Quickly
When the City Council moved to virtual working in March, the council members' transition was nearly seamless.  Communications continue, activities and workflows are managed, and most importantly, their efficiencies in handling business as usual enabled them to flex and handle new demands in new areas. Some highlights from the past several weeks include:
Council members are processing constituent communications within established response times, routing cases to staff for investigation and response, and categorizing them in existing and new topics/groups for monitoring and reporting purposes.
The City Council is managing a surge in the number of requests related to social resources, helping their constituents find information about health care, meal services, school statuses, and support for youth and homeless populations among many other subjects.
They have increased the frequency of their communications, easily aggregating useful and most-requested information into newsletters email to their database and published online. Before March, outbound newsletters were sent on average once a month by each City Council member; since the beginning of February, every council member has published newsletters customized to his or her constituency on a weekly basis.
Stay in Touch, Be Responsive and Help
A council member's job is to know and address the concerns of its constituency with transparency, so having a platform for communications, issue tracking and response, and performance metrics and reporting is the pillar of this City Council's job.  Other remote business models in other industries would accrue similar benefits: standardization of communications and tasks, the ability to delegate, track and resolve cases, and the ability to monitor and report on an individual, a team or a business unit's performance is key.  These efficiencies are critical even more so in times of crisis like now, when we are made increasingly aware of the need to focus on what is truly important, in our homes, in our jobs and for each other.
To learn more about West Coast Consulting Group and remote working/digital transformation, please call us at 415-626-3493 or email info@westcoastconsulting.com.
#NonProfit #PublicSector #SalesforceNonProfit #Public #SaleCloud #ServiceCloud