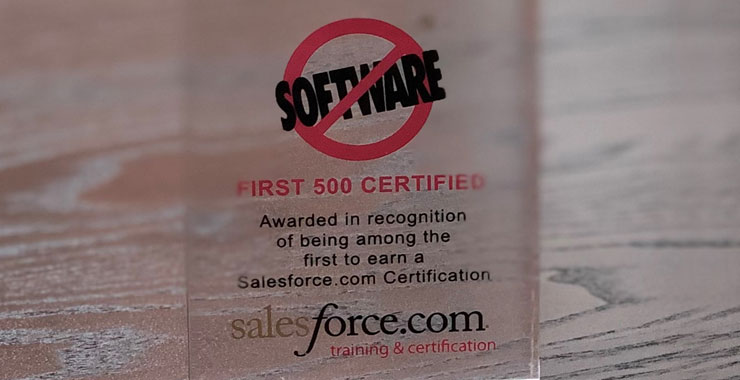 It's been a lot of fun to follow the media coverage of Salesforce, describing the incredible achievements of Marc Benioff and Parker Harris and the entire team over the past twenty years.  One of our favorite photos was in the San Francisco Chronicle of Mark and Parker outside of Mama's Cafe in North Beach.  One of the West Coast Consulting Group team's favorite spots is just across the street at the Liguria Bakery, where we try to show up early to get our focaccia before they sell out!  It's interesting to think about how all three of these things – Mama's, Liguria Bakery and Salesforce – are San Francisco institutions, and on the 20th anniversary of Salesforce we thought about what this particular institution, that today reaches all parts of the globe, means to us.
2004: What a Year!
West Coast Consulting Group started in 2004, a bunch of enterprise software and business process optimization specialists from large tech firms and systems integrators coming together to bring our expertise to Silicon Valley companies.  Our mission was to codify their processes in software.  And one day we were standing outside of our SoMa offices and a taxi drove by with an ad with that now-iconic cloud logo and the tagline "No Software."  What was this?!  We immediately investigated, had our first meeting with the Salesforce team and from that point, there was no looking back.

Our team was one of the first teams trained, certified and gainfully employed to deliver Salesforce implementations back in the day when the Salesforce platform was essentially only what SalesCloud is today.  We were among the first 500 to be certified, and we have a plaque to prove it!
And Off We Go!
It's been a great journey for the West Coast team. Since those earliest days and launching Salesforce for some of our first non-profit organizations, we have kept pace with the evolving platform.  We were engaged with the Salesforce Industry Solutions team and in the early days, we were part of building out the Call Center demo for them.  These were in the days before the AppExchange: using core capabilities in the platform, we built case management, Customer Service Representative scripts, an integration to the phone system (CTI), and call center management reporting.  This was in 2007, and those capabilities in our demo became the foundation for ServiceCloud.

We have kept pace with the Salesforce solution in the market; over our fifteen years, we've deployed so much of the platform including SalesCloud and ServiceCloud (naturally!), MarketingCloud, Pardot, Field Service Management, and integrations with back-end systems.
The West Coast business has grown and has served customers in several industries including  health care, high tech, financial services, nonprofits and government.  We launched our first app in the AppExchange, CloudCollect, a cross-industry module that delivers automation and intelligence to the process for collecting past due debts.  The AppExchange model has proved wildly successful, having grown to 5,000 apps, 6 million installations, and 80,000 customer reviews, and we've built a roadmap to launch even more apps in 2019.  Stay tuned!
Dreams Fulfilled and Still To Be Dreamed
Over our years as a Salesforce partner, our team has been pleased to see how the company has retained its culture while growing from about 500 employees to over 35,000.  We've adopted and maintained the 1-1-1 commitment as well.  We have found our sweet spot in the market: helping small to mid-sized businesses in a variety of industries make the most of their Salesforce capabilities for sales, service, and operational processes as they increasingly adopt the automation and business intelligence benefits of digital transformation.

The West Coast team remembers our first Dreamforce in the Palace Hotel in 2004.  Thinking about what Dreamforce has become can leave you breathless, but the one thing that has remained constant throughout is its environment of engaging with customers and Salesforce evangelists alike.  It's not to be missed.
We've enjoyed the journey so far, and look forward to what lies ahead.  Here's to our next years together!
#Awards #Certifications #Salesforce #SalesCloud #ServiceCloud