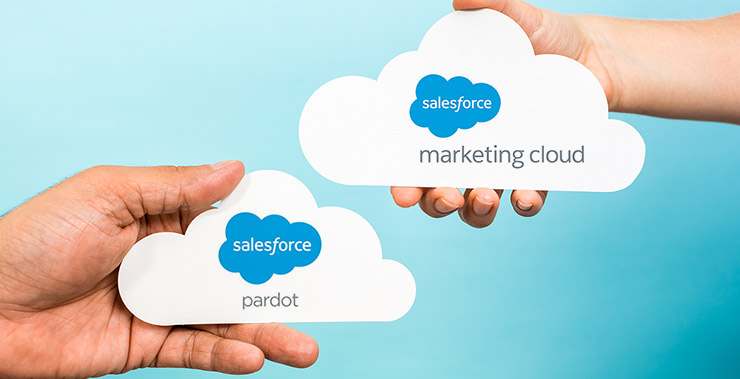 One of the perennial questions that the West Coast Consulting Group team faces from our customers' marketing teams is when is it appropriate to use Salesforce Marketing Cloud for their initiatives and when should they consider Pardot.  We wanted to explain the differences.
When Should a Company Use Pardot?
Pardot is a marketing automation and lead management software that helps business-to-business (B2B) companies define, execute and manage marketing campaigns to raise awareness, nurture prospects and leads, and boost their revenue streams. The main Pardot features include:
Multi-touch email campaigns to foster ongoing dialog with prospects and leads
Lead nurturing and management, having the right communication and providing the right content to your sales leads as they progress through the pipeline funnel
Out of the box integration with your Salesforce data
Social media marketing, listening to discussions about your products and engaging with audiences through all social channels
Sales intelligence allows you to know what are the most effective methods and messages for reaching your leads and customers
If your marketing team's primary object is qualify business leads and nurturing them to a particular point in the sales process where they get handed off to an Sales Account manager, then Pardot is your tool.
Here are some Pardot benefits and considerations:
Benefits:
Pardot is optimized for start-up B2B companies with rapid growth plans, mid-sized B2B companies and non-profit organizations seeking to manage their corporate donor relationships
Supports lead scoring and an integrated process to connect your marketing and sales processes
Natively integrated into the Salesforce platform
Easy to use interface well documented to guide your team to grow and expand their marketing capabilities
Considerations:
Because Pardot is focussed on B2B marketing, there are caps on the number of prospect that can be managed
And What About Salesforce Marketing Cloud?
With the Marketing Cloud, consumer-facing businesses in any industry – for example, retailers, health care providers, or financial services providers – can create and grown their presence in all channels including social media. Salesforce Marketing Cloud supports the following features:
Journey Builder which allows your marketing to define how to advance a customer conversation across channels

Email Studio that provides tools to easily configure, execute and monitor the effectiveness of your email campaigns and landing pages and forms

Mobile Studio which supports customer interactions through text messaging and mobile instant messaging

Social Studio to drive your dialog through social platforms such as Twitter, Instagram and Facebook

Advertising Studio which is a platform to manage your online advertising presence, spend and metrics

A Predictive Intelligence dashboard that display effectiveness and trends across all your channels and spend

A content library that streamlines your use of messaging, artifacts and images to be applied across campaigns and channels

Customer data platform that enables you to manage your lead, prospect and customer data and behavior across all channels
If your primary goal is to build and strengthen your one-on-one engagement with consumers across all channels, then the Salesforce Marketing Cloud is the platform for you.
Here are some Salesforce Marketing Cloud benefits and considerations:
Benefits
Marketing Cloud is scalable to support extensive marketing activity in large companies

Unifies Email and Mobile marketing

Delivers a dashboard to track you online advertising spend and effectiveness

Provides extensive reports and analytics

Embeds social listening across all main social media platforms

driven by your defined customer Journeys to manage effective consumer campaigns
Considerations
Marketing Cloud is best utilized by teams with extensive marketing expertise, as it requires significant configuration and customization to deploy and manage omnichannel consumer campaigns.
View our webcast: Marketing Cloud vs Pardot
West Coast Consulting team is ready to partner with you to expand and optimize your customer outreach. We are certified Salesforce partners in both the Marketing Cloud and Pardot arenas and are able to help you define a marketing strategy to reach your audience and effectively use Salesforce technology to make it happen.  You can email us at info@westcoastconsulting.com or call us at 415-626-3493.  Contact us today!
#MarketingCloud #Salesforce