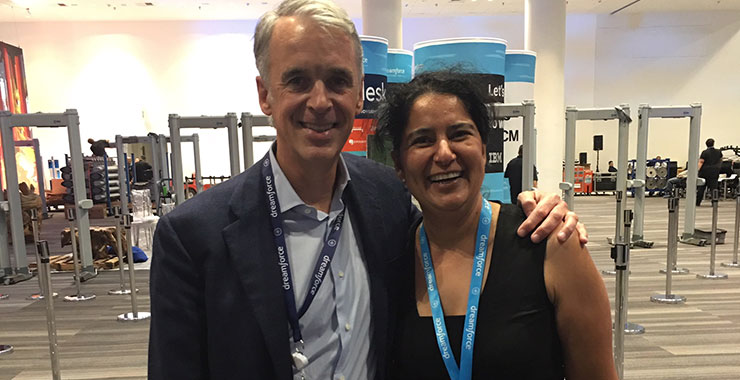 Salesforce's annual Dreamforce event took our home city of San Francisco by storm a couple of months ago, and we continue to be awed by the size and the energy of this global community. The attendee numbers held constant at 2107 levels with 170,000 participants, and the West Coast Consulting Group team was thrilled that the number of advisory sessions and visits to our booth in the Expo was up by 25% and that means people are wanting to do more with Salesforce.  Thanks to everyone who stopped by!
We've had a couple of months to make sense of the overwhelming amount of information we learned at Dreamforce, and the takeaways have solidified in the West Coast Consulting Group team's mind. As we approach the holiday season, our company and yours are in the midst of planning for 2019, and it's the perfect time for us to unify these two milestones: what's new, exciting and will deliver value to your business with what you should be thinking about doing next year.
Meaningful Interactions
In 16 years of Dreamforces and even more years of development, the Salesforce ecosystem feels like it has almost everything a business needs. Reviewing the main subjects, sessions and announcements at DF'18, one overarching theme emerges. Salesforce is now all about changing the nature and degrees of interactions. Better and more user-friendly interactions between your team and its business processes. More automated interactions between Salesforce and other systems in your IT ecosystem. Mobile interactions wherever and whenever you want. And more, delivering greater efficiencies, increased productivity and more rewarding collaboration.
Let's look at some of the latest announcements and place them in the context of meaningful interactions.
The Voice of Einstein
Announced at Dreamforce, Einstein now provides a much-improved means of interacting by a voice-activated user interface with natural language processing to assist your staff with performing a wide range of tasks and activities. Einstein can translate voice input and update your Salesforce records in real time, reducing repetitive administrative tasks and time-consuming data entry. Your organization can build a branded voice bot and create your own custom voice-activated commands for your customers, and can extend that interaction through Siri, Google Assistant, or Alexa.
High Velocity Sales in the Cloud
The Sales Cloud keynote at Dreamforce gave us the first glimpse of High Velocity Sales, a new way to reach the best leads and intelligently convert them into new sales opportunities all in one seamless workspace. Einstein brings AI-driven Lead Scoring to prioritize your leads and automatically capture email and meeting activity on your lead records to reduce manual data entry. High Velocity Sales is about incorporating machine intelligence into your sales pipeline, making the pipeline management process more efficient and leaving your sales team more time to have more meaningful interactions with their prospects.
Marketing Cloud Grows
The Marketing Cloud keynote demonstrated new technologies and processes for improving your business's interactions with your customers. We saw examples from the likes of Warner Brothers and Ticketmaster, using Intelligent Marketing methods to empower their consumers, with an emphasis on knowing the customer, personalizing their interactions, and increasing engagement across the entire customer journey. With the recent acquisition of Datarama, Marketing Cloud brings new capabilities for automatically incorporating campaign metrics across multiple channels and delivering greater insights into how and where messages are resonating with your audience.
Connecting More Apps with MuleSoft
The $6.5 billion acquisition of MuleSoft was Salesforce's largest to date, and featured in its own keynote at Dreamforce. The Anypoint Platform will enable you to strengthen and extend the connectivity of your IT network to cloud apps, data, and devices. Cloud integration will become increasingly critical to your business; the average business today has over 1,000 cloud applications and that number likely will only grow.
More Connected Commerce
The incorporation of CloudCraze into the Commerce Cloud community is an important step to improving interactions for B2B business models. Business customers and supply chain partners expect and deserve the same degree of meaningful interactions as consumers, and now Commerce Cloud can help. With CloudCraze capabilities, built natively on the Salesforce platform, you can bring the digital customer experience to your partners and enterprise customers. The newly expanded Commerce Cloud brings unified insights into your B2B customers' behaviors and interactions across your all of your channels and business processes for commerce, marketing, sales, and service.
West Coast Can Help You Engage
These are some of the most significant developments in the Salesforce arena in 2018 that can help your business have more meaningful interactions in 2019 and beyond: interactions with your customers, with your workforce, with your data, with your partners, and with your cloud-based ecosystem. Better interactivity leads to increased productivity and increased revenue opportunities, so don't miss out. Contact us today to make 2019 more meaningful to your business.
#Salesforce #Dreamforce #DigitalTransformation