Next Generation Pharmacy Benefit Partner Deploys HIPAA Compliant Sales and Service Cloud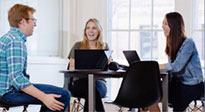 The Challenge
San Francisco based technology company SmithRx has built a new type of Pharmacy Benefits Management (PBM) system on state of the art platform technology. The company was founded in 2016 to create a cost competitive PBM that offers clients a proven pass through model, a single technology platform, concierge level service, and strong drug cost, rebate, and service level guarantees. The SmithRx model couples technological innovation and efficiencies with a transparent and auditable pricing program that passes through all manufacturer rebates to plan sponsors.
To ensure HIPAA compliance, SmithRx was managing their sales and service systems on two separate Salesforce instances. The fragmented infrastructure and inconsistent data input significantly restricted the effectiveness of the platform. As the company grew rapidly, executive management wanted to track everything, from member acquisition to customer management within one instance, while remaining HIPAA compliant. Their long sales cycles required a much improved pipeline visibility to be able to better forecast volumes and plan business activities.
John Romano, leader of Business Operations, was eager to start the project. In addition to consolidating the Sales and Service systems, he also wanted to manage the company's data more intelligently, accommodating Plan Sponsors, Members, Third Party Administrators, and Consultants. John issued an RFP to Salesforce Integration Partners with proven healthcare experience.
The Solution
West Coast Consulting was awarded the RFP. They were tasked with redefining the architecture to use one Sales and Service Could instance, while providing security and data management according to HIPAA compliance requirements.
West Coast Consulting developed a best-practices data strategy that allowed existing sales and services data to be placed into a new data model. They restructured the data with a HIPAA compliant security model that allowed sharing data across all business segments.
For 10 weeks the consulting team worked closely with John and the strategy team to redefine and realign the data. They implemented a clear process for sales to customer success hand-off. They removed duplicates and redundant old records, and created a business-centric account hierarchy that links to all channel partners involved, such as Third Party Administrators, Brokers, and Plan Sponsors. This enables the customer-facing team to establish and track relationships throughout the industry and key selling partners.
The new system notifies all stakeholders of the activities they own. For example, legal is notified of various contract activities and finance is notified of pricing/guarantee activities based on the stage of a deal. The goal was to achieve 100% of signed contracts prior to going live. The team developed an staged go-live plan that allowed for minimal disruption to ongoing business, accommodating existing sales users and service users.
SmithRx now has one reliable database that is the definitive source of truth. There is no longer a single point of failure in the system. The consultants created a set of dashboards that help John and his team track sales performance, pipeline and forecasting down to the individual sales representative.
Results
The new system is all self-serve for internal users. Inbound questions and data requests have dropped to zero. Detailed client and case history is logged for each account. The comprehensive records of past and present issues have led to measurably more effective customer service.
The sales team now has clean account and contact data, with well-defined workflows and opportunity management. Customer Success can manage complex account relationships, track client interactions and store personal client data for each contact.
The Service organization can rely on a security model that keeps PHI sensitivity intact. They can track all contact data, including interactions at the client level.
"Our new Sales and Service Cloud deployment has greatly increased our ability to accurately forecast sales volume, and in turn has increased the effectiveness of business planning activities across the entire organization," said John. "The usability of the system is great, our team loves it, and can now get access to the customer data they need, quickly and easily."
Using the reports and dashboards created by West Coast Consulting, SmithRx management has excellent visibility into their business. "We are delighted to finally get the benefits from our Salesforce Cloud deployment that we had expected all along," said John. "West Coast Consulting did an outstanding job planning, implementing, and taking us live without disrupting our ongoing business."

ORGANIZATION
SmithRx
INDUSTRY
Healthcare
HEADQUARTERS
San Francisco, California
SUMMARY
10 weeks for Sales & Service Cloud re launch
Designed HIPAA compliant data model.
Deployed Sales & Service Cloud without business disruption.
Implemented forecasting and revenue reporting.
Achieved great pipeline visibility.
100% adoption