Panther.io Implements Salesforce Integrating Quotes with DocuSign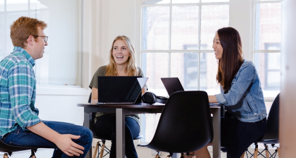 The Challenge
Based in San Francisco, California, Panther Labs provides a cloud-scale security analytics platform trusted by many of the world's leading brands. The company has a a $1.4 billion-dollar valuation and offers a highly scalable and practical platform for threat detection and response.
In the previous year Panther had grown their customer base by 300%, matched by an aggressive expansion of their team. Executive management needed to implement a system to support this growth and move from spreadsheets to a modern CRM. The requirements included integrating Salesforce, DocuSign, Gong, Salesloft, and Slack.
Following an RFP process, Panther chose West Coast Consulting Group to implement Sales Cloud, integrate the various systems, and automate their complex quote-generation and signature-gathering process.
Information from different records across many objects needed to be integrated into the Quotes system before a quote could be sent out to the customer. The Quotes object needed to work seamlessly with DocuSign for gathering signatures and approving the quote from both the customer and Panther representative working on a deal.
The Solution
For four weeks the West Coast Consulting team worked closely with Panther's sales team and various other stakeholders to define the overall sales process and the quote generation and DocuSign approval process. West Coast Consulting Group created two Quotes templates – one for renewing existing customers, and the other for new customers. DocuSign was configured and integrated using best practices. Fields that required signatures used the defined process of approval, which involved securing signatures from both parties.
The Quotes templates included fields from various objects such as Accounts, Opportunities, Opportunity Products and Contacts. Customization of the quotes involved incorporation of text specific to each template such as purchase agreement clauses and signature sections which needed to be integrated and configured with DocuSign.
West Coast Consulting Group created a staged go-live plan that allowed for minimal disruption to ongoing business, accommodating existing users. The new Salesforce system significantly improved the information flow among various stakeholders. The automated quote generation and signature gathering process in Salesforce, with the integration of DocuSign helped Panther teams save time and streamline the process.
Results
Panther was able to successfully launch Salesforce at their Nevada Sales Conference and achieved 100% user adoption with all deals seamlessly recorded and managed within Salesforce. Productivity increased by 45% and revenues increased 110% compared to the previous quarter.
Panther was able to close record business and track all their deals without any manual intervention from deal desk. The integration with DocuSign allowed sales to seamlessly send out contracts for signature, leveraging the integrated backend system with PO generation and invoice management.
The new system enabled Panther to focus on selling and growing rather than managing their deals via Google Sheets. Deal closing times dropped by 80% as different teams within the organization were better coordinated to close deals with the integrated DocuSign system.

ORGANIZATION
Panther.io
INDUSTRY
High Tech
HEADQUARTERS
San Francisco, California
SUMMARY
Implemented Sales Cloud
Integrated DocuSign, Gong, Salesloft, and Slack
Created two Quotes templates for new clients and for existing clients seeking renewals
Automatic quote creation combining data from various sources into the Quotes object
Quotes integrated seamlessly with DocuSign for signatures from all involved parties.