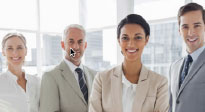 Oregon Healthcare Leader Promotes Membership Health With Health Cloud
The Challenge
Since 1984, FamilyCare Health has supported the health of Oregonians through innovative systems that increase access to care, improve quality, and lower healthcare costs. Today the company supports over 120,000 residents, including Medicare and Medicaid members in Oregon. With Obamacare going into effect, the number of members enrolled in the FamilyCare Health Plans increased dramatically.
Lynska Villiarimo, Navigation Services and Enrollment Manager, who manages both Medicare and Medicaid plans did not have a Customer Relationship Management system. Her team was entering manual notes into the Care and Claims system, which made it hard to track member history, search for information or answer questions by members or providers. Lynska provided her daily management reports using Excel spreadsheets, but found the process cumbersome, lacking visibility and transparency.
Faced with the recent increase in enrollment Oscar Clark, Vice President of Community and Health Services decided to implement Salesforce CRM. Oscar reached out to West Coast Consulting, based on a recommendation by Salesforce. The consulting team performed an initial assessment and then proceeded with the deployment.
The Solution
West Coast Consulting designed a brand new CRM system with best in class business processes using Salesforce Health Cloud. The system was deployed in four months, integrating industry claims information and migrating data from various other systems, including cleanup and alignment of member and provider data. Member profiles now contain detailed information about welcome calls, social community links, screening tests, and more. Provider profiles include information such as specialty, type, member association, as well as clinic and port associations.
The new system allows FamilyCare Health to track hospitals and their relationships to providers, as well as the services provided, such as urgent care. It provides agents critical information at their fingertips, including call share between providers, clinic hours, and provider association.
The West Coast Consulting team implemented Health Cloud Console to track interactions using knowledge articles for member benefits, and provide information about ride to share, social community, PHI/POA, along with claims and grievance data. The system tracks member changes from the state of Oregon on a daily basis and enables FamilyCare Health agents to connect members and providers.
Results
For the Navigation and Enrollment team, the new system delivers a next generation experience that increases their productivity and allows them to focus on better member and provider experience. Instead of having to jump between different systems, they now have all relevant information on one screen. Integrated Google Earth helps agents locate hospitals and clinics based on member address information. Oscar said: "Our call center reps love the new Salesforce system. It saves them a tremendous amount of time and has all the information in one place when they interact with our members and providers."
New Medicare and Medicaid dashboards include detailed reports and metrics that provide management with critical performance indicators in real time, such as inquiry interactions related to Claims, Benefits, Enrollment Matters, Eligibility, Dental, Vision and Referral and Authorization.
Oscar was pleased with the success of the project: "West Coast Consulting did an outstanding job implementing Health Cloud in our member and provider contact centers. The new system has helped us improve agent performance as well as job satisfaction. Our call resolution time has decreased by more than 50%."

ORGANIZATION
FamilyCare Health
INDUSTRY
Healthcare
HEADQUARTERS
Portland, Oregon
SUMMARY
Implemented Health Cloud in four months
Connected member and provider information from separate systems
Defined, implemented and tracked member and provider interactions
Google Earth integration
Claims management integration
Reduced call center resolution time by 50%