Champion Broadband Goes From Paper to Mobile CRM in Just Three Weeks
The Challenge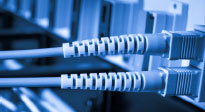 Based in Monrovia, California, Champion Broadband is a premier provider of advanced video, high-speed internet access and digital telephony services. The company's service offering is supported by one of the most advanced networks in the cable and broadband industry.  Champion Broadband's sales people are going door to door, writing notes of their meetings into their paper notebooks. At the end of the day they have to travel back to the office to submit their orders on paper to the office staff to get entered into the billing system.
Being on the road all day, the sales teams do not carry a computer and do not have a clear view of their opportunities once they are out of the office. Albert Lemus, SVP of Sales and Marketing, said: "We were looking for a reliable way to monitor sales activities and needed a system that would enable us to analyze pipeline and overall sales performance."
The Solution
Albert engaged West Coast Consulting, who conducted a needs analysis and recommended Unlimited Edition from Salesforce.com as the CRM platform. The consulting team implemented a system to manage sales activities, track leads, pipeline, and opportunities. It was quickly integrated with the existing Convergys billing system for order management.
During one of the first milestone meetings, the team gave Albert a demonstration of the user interface for sales – on a Blackberry and an iPhone. Albert recalls: "It was incredible, how fast West Coast Consulting delivered a fully customized CRM system, complete with mobile access and backend integration, tailored to our specifications." The system includes a mash-up with Google Maps, which allows a salesperson to look for other opportunities near his current location on his iPhone in real-time.
Results
In three weeks, West Coast Consulting implemented a comprehensive Cloud-based CRM solution. Champion Broadband did not have to invest a single dollar in computer hardware, software or IT infrastructure.
All Sales reps have switched from paper notebooks  to running their business from their iPhone or Blackberry.  Instead of using a computer, they manage the entire sales process on their mobile device, maximizing their customer-facing time. The icing on the cake is a mobile dashboard that allows each rep to see the performance of his fellow team members, driving healthy competition.
Management is able to manage performance and discover trends early on, using customized dashboards for activities, pipeline and bookings. "The West Coast Consulting team did an outstanding job, on time and on budget. Our sales teams love their iPhone application. And our CEO is delighted about the accurate and timely information he receives in his daily status report." said Albert Lemus to summarize his experience.

ORGANIZATION
Champion Broadband
INDUSTRY
Cable & Broadband
HEADQUARTERS
Montrovia, California
SUMMARY
3 week implementation time, exceeding customer expectations
Mobile CRM with order entry and dashboards on iPhone and BB
Convergys billing system integration Google mash-up for mapping opportunities
Dashboards for sales activities, pipeline, opportunities and more
No investment in hardware or software