Networking Leader Deploys Salesforce Service Cloud Globally
The Challenge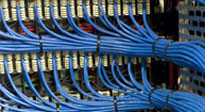 Based in San Jose, California, A10 Networks is a worldwide leader in application networking. The company provides a range of high-performance application networking solutions that help organizations ensure that their data center applications and networks remain highly available, accelerated, and secure. In February 2013, A10 Networks went public [NYSE: ATEN].
To prepare A10 Networks for the next growth phase, the company decided to upgrade their infrastructure. The systems of the sales and service organization were disconnected and did not support the entire customer life cycle. They had fragmented service channels, leading to inconsistent customer experiences. Customers were supported without valid service contracts.
Eric Kwok, Senior Director Worldwide Support & Logistics, wanted to deploy a state of the art CRM platform. On the back-end it had to be integrated with Oracle Financials. On the front-end, Eric was looking for a social platform to bring customers closer to A10's sales and service organization. Based on the needs of the organization, management decided to extend Salesforce to include the support organization.
For the implementation, Eric and his team selected West Coast Consulting, for their extensive call center experience and their excellent customer satisfaction rating delivering successful Salesforce implementations.
The Solution
West Coast Consulting designed the new CRM system using Salesforce Service Cloud with Communities to support A10 Network's global 24×7 operations. To address the most frequent questions they deployed Knowledge, so that customers could find technical documents and articles with answers on their own, using Customer Communities. It was integrated with Oracle Financials to ensure that customer asset, service, and entitlement processes match each customer's SLA.
A10 Networks' customers can now request support by phone, fax, email-to-case, or enter a case directly using Communities. They can track their own priority 1 and 2 issues including SLA milestones and status visibility. Customers can also see the status of their RMA process in Communities.
Cases without a valid service contract are automatically routed to sales operations. Built-in escalation processes ensure timely response within customer SLA's. Customers can verify and validate their issue resolution 24/7. This helps relieve the caseload of the A10 technical support team.
Results
"We were impressed how West Coast Consulting worked with our Support, Sales Ops, IT, Renewals, and Finance organizations, to orchestrate a successful global Service Cloud launch," Eric recalled. The worldwide rollout across five regions, was seamless and without a glitch. For the support organization, the new system delivers a next generation experience that increases their productivity and allows them to focus on better customer service. The sales team is now enabled to view and manage expiring service contracts and gain full visibility into customer issues. Agents can remain within a single user interface, which allows them to communicate better and solve customer issues faster and more effectively.
Comprehensive dashboards and reports provide management real-time insights into support metrics from any device. Departments are now able to configure their reports and dashboards without IT help. A10 Networks Managers are excited that they can quickly customize reports to improve and accelerate business decisions. They receive notifications when metrics reach specific thresholds.
Eric said: "Our new Salesforce system helps us maximize agent performance. Using the dashboards it's easy to identify, retain, and grow our top performing Service Engineers. We can now motivate our teams with real time recognition and coach individuals to meet key metrics and desired behaviors."

ORGANIZATION
A10 Networks
INDUSTRY
High Tech
HEADQUARTERS
San Jose, California
SUMMARY
3-month implementation
Deployed Service Cloud across five continents
Migrated case data from homegrown system
Integrated with Oracle Financials
Deployed Customer Communities with Knowledge